Earlier this month a friend of mine told me about how she does a year in review every year. The purpose is for her to reflect on what God has done and where He has brought her from in one year. It sounded like something that I needed to do and it got me to thinking – what does 2017 have in store?
Well…the short answer is that you can never really know what the future holds. You can plan, but ultimately it's the Lord's will and purpose that will prevail. BUT, you should have a vision for what you want your life to look like year to year. Without plans you perish and if you commit to the Lord, your plans will succeed. 
That being said, I want to share the life, relationship and professional challenges I learned in 2016. Watch these 3 videos below and make sure to follow our blog here so that you can get notification on when new articles post. 
Are you ready for your breakthrough in 2016? Get your copy of How to Break Through to a New You.
It includes 30 days of audios that will keep you encouraged, uplifted and on track with your goals for this new year: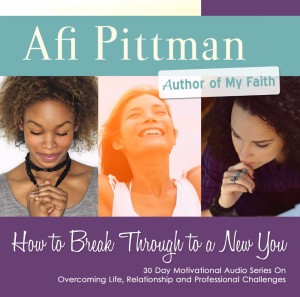 Afi is a blogger and author. Her mission is to help you overcome your life, relationship and professional challenges.
Latest posts by Afi (pronounced Ah-fee) Pittman (see all)

Are you ready to change your life?
Subscribe to the Let's Talk Community 90 Confessions to Change Your Life audio/visual series...